Anna Mona-Pia: the triple threat who can sing, dance, and produce fabulous shows, all while managing to stay flawlessly in drag. They're basically a one-person extravaganza, and we're just lucky to witness it!
Our 11oz. Ceramic C-handle mug is a lightweight, yet durable. With a bright white glossy finish any image can be applied with the dye-sublimation process.Sublimated images are embedded into the polymer material and not a coating.Even after decorating, the glossy finish of the mug surface will remain.
Our mugs are decorated by sublimation; a process where a printed design is heated and the ink transfers into the polymer surface of the mug.
These mugs are NOT guaranteed to be dishwasher safe as the design can be affected by high heat. Please hand wash.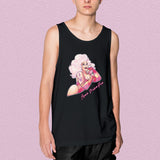 More from this collection